What Is a Central Bank Digital Currency (CBDC)?
Central bank digital currencies are digital tokens, similar to cryptocurrency, issued by a central bank. They are pegged to the value of that country's fiat currency.
A central bank digital currency or CBDC is a virtual currency backed and issued by a central bank. As cryptocurrencies and stablecoins have grown in popularity, central banks around the world have realized that they must provide an alternative to physical money or risk missing out on the future of money.
Thousands of digital currencies, often known as cryptocurrencies, have already been created. Cryptocurrencies may be centralized, but the government doesn't issue them—consider the Diem project, which has been started by Facebook. However, Bitcoin and its competitors are examples of decentralized cryptocurrencies.
Cryptocurrencies are based on distributed ledger technology (DLT), which means that a transaction's accuracy is being constantly validated by devices throughout the world rather than by a single central hub.
CBDC is managed on a digital ledger (which may or may not be a blockchain), speeding up and securing payments between banks, institutions and individuals.
Digital currencies issued by central banks are currently one of the most revolutionary innovations in the global financial ecosystem. In the financial world, there have been a lot of questions about the Crypto vs. CBDC discussion. Let's look at various concepts surrounding CBDCs and a comparison between cryptocurrencies and central bank digital currencies.
Nigeria's CBDC (E-Naira) EXPLAINED.
eNaira is a central bank digital currency (CBDC) backed by law, the full sovereignty of Nigeria, issued by the Central Bank of Nigeria as a legal tender. It is the digital form of the Naira and is used just like cash. The eNaira wallet is a digital storage that holds the eNaira.
E-naira ADOPTION RATE SINCE INCEPTION
eNaira struggles with 0.5% adoption rate amid Nigeria's high ranking in crypto use
Recent reports have suggested that the eNaira has struggled to find its footing among the targeted users since its inception in 2021.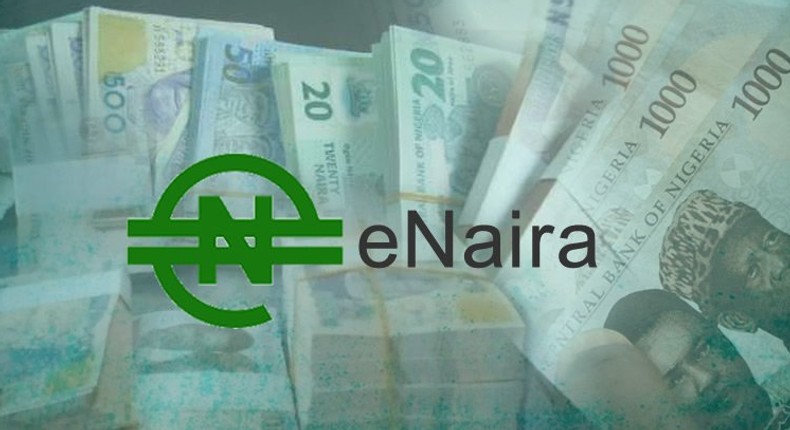 eNaira
The eNaira was designed to be the digital form of the naira and had made its mark as the first national digital currency in Africa.
During its launch by the Central Bank of Nigeria (CBN) in October last year, officials promised it would open up avenues for financial inclusion and fiscal benefits aimed at boosting the economy.
One year down the line, the eNaira is still struggling to make its mark on the financial consciousness of Nigerians, especially the well-grounded crypto-savvy population.
According to a Bloomberg report, the adoption rate of eNaira has been put at a very low level as just less than 0.5% of Nigeria's 217 million population have confirmed to use the government-backed digital currency.
This comes amid the country's high ranking as the top country in Africa and 11th position in global crypto adoption by Chainalysis, an American blockchain analysis firm.
Another report by KuCoin also revealed that about 35% of the Nigerian population within the 18 to 60 age bracket owned or traded cryptocurrencies this year. For crypto-savvy citizens, the confusion in the adoption of the eNaira comes amid the FG's decision to outlaw cryptocurrency trading in the country's commercial banks.
Many Nigerians have failed to see the difference between the government-backed eNaira and cryptocurrencies and thus have wondered the rationale behind Government's decision to stop banks from trading cryptos.
The eNaira's build is very similar to that of cryptocurrency as they share some unique properties. eNaira can be saved in digital wallets and also has similar distributed ledger technology as Bitcoin or Ethereum.
The CBN, in a move to mitigate the low adoption rate has commenced a nationwide awareness campaign to drive the adoption of the digital currency at the grassroots by offering a five per cent discount to drivers and passengers of the popular 'Keke Napep' that ply the city streets in a bid to increase usage.
This move may eventually turn out well for the apex bank's prospects of pushing the eNaira as the CBN governor in August, proposed an adoption target of eight million users in its second phase.
Report credit Pulse.ng
Bitcoin Spikes
The growth in crypto adoption went up by 21 per cent last year. According to the report, Men are much more likely to own crypto with 59 per cent of crypto holders being men and 41 per cent being women. Bitcoin (47 per cent) is the most popular digital asset in the nation, followed by Ethereum (25 per cent)
Most people owned either Bitcoin or Ethereum. Data from crypto-research firm Chainalysis suggests that crypto adoption in the US stands at 14%. Out of the 154 countries in the survey, the US ranked 8th.
It is also easy to buy Bitcoin in Nigeria. Today, Bitcoin has become part of our everyday lives and one of the most requested investment instruments. It can be bought almost all over the world, as long as you have access to the internet. It is also easy to buy Bitcoin in Nigeria.
Nigeria has been ranked as the leading country per capita for Bitcoin and cryptocurrency adoption in the world according to a report by Statista.
The survey found that 32% of Nigerians surveyed have used or owned crypto at some point.
The survey also showed that around 300 million people globally in 2021 have owned or used crypto at some point in their lives.
According to recent data published by Statista, Nigeria ranks 1st globally as the leading country per capita for Bitcoin and cryptocurrency adoption, with nearly one-in-three Nigerians indicating they used or owned crypto assets in 2020.